Le domaine du Grand Jacquet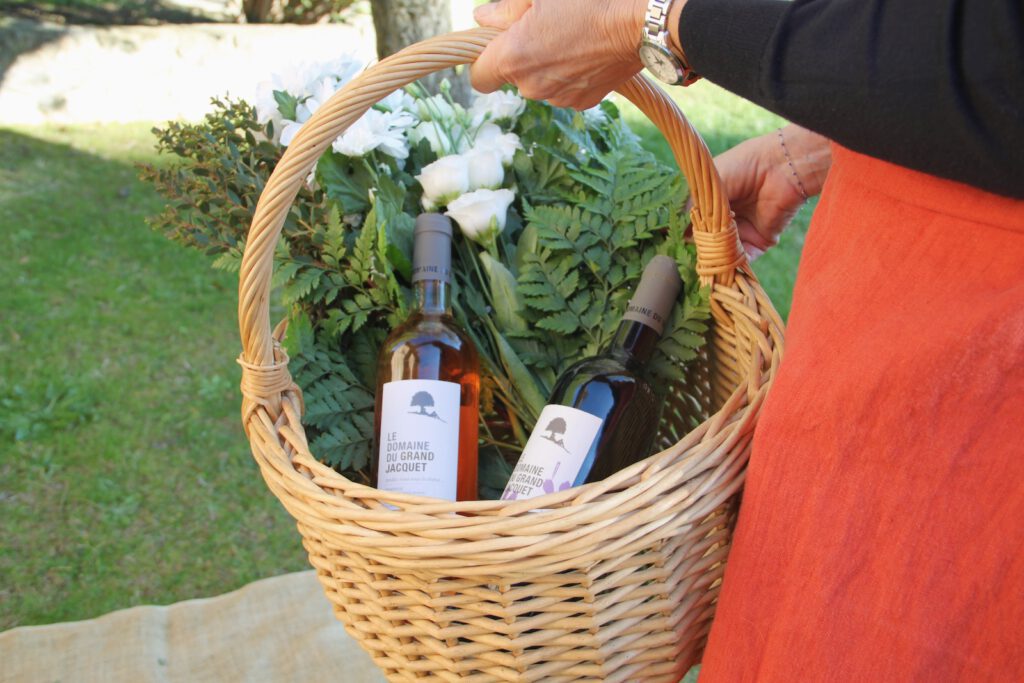 The choice of a successful maturity
We cultivate each parcel according to the seasons and the lunar calendar. We harvest them by hand, then we vinify them individually to let each terroir express itself. At Crillon-le-Brave, the Grenache is harvested "just before the wild boars". Their greediness determines the date of maturity. On the Mazan side, the Syrah whose bunches have been pre-selected waits until October to be harvested.
la cuvée des grands hommes & des grandes dames
Its fruity character and its unclassifiable label make it a festive wine, to be shared in all conviviality; it is the wine of friends, our great men.
rendez-vous sous le chêne
The harvesters' days start under the oak tree, a convivial place near our house; it is the tradition. These wines integrate all the main grape varieties of the AOC Ventoux. They are complex, deep, original, ambitious too.
le sanglier gourmand & juste avant les sangliers

Every year, we push the ripening of the grapes on our most beautiful plots. We have to face the often-execrable weather of the equinox and the too curious wild boars. We elaborate in this range a powerful red, tannic with intense and concentrated aromas. This version revisited in white will delight your taste buds as the terroir expresses itself as soon as we gain in altitude.
The planets are difficult to reach, we produce them only in the great years. In Red, as in White, these vintages are aged in barrels. We take our time because the journey is long.
In this frantic fight between man and "the black beast", in years of poor harvest when the smallest grape counts, you must know how to show your teeth... or your fangs! This wine is therefore made from the last grapes, ripe and concentrated.
Un vin pour le dessert, pourquoi pas ? Un 100% Marselan ramassé à la fin de l'octobre, les vignes ont perdu leurs feuilles, seules les grappes résistent au début de l'automne. Un pressurage direct pour préserver le fruit et les baies gorgées de sucre.