Le domaine du Grand Jacquet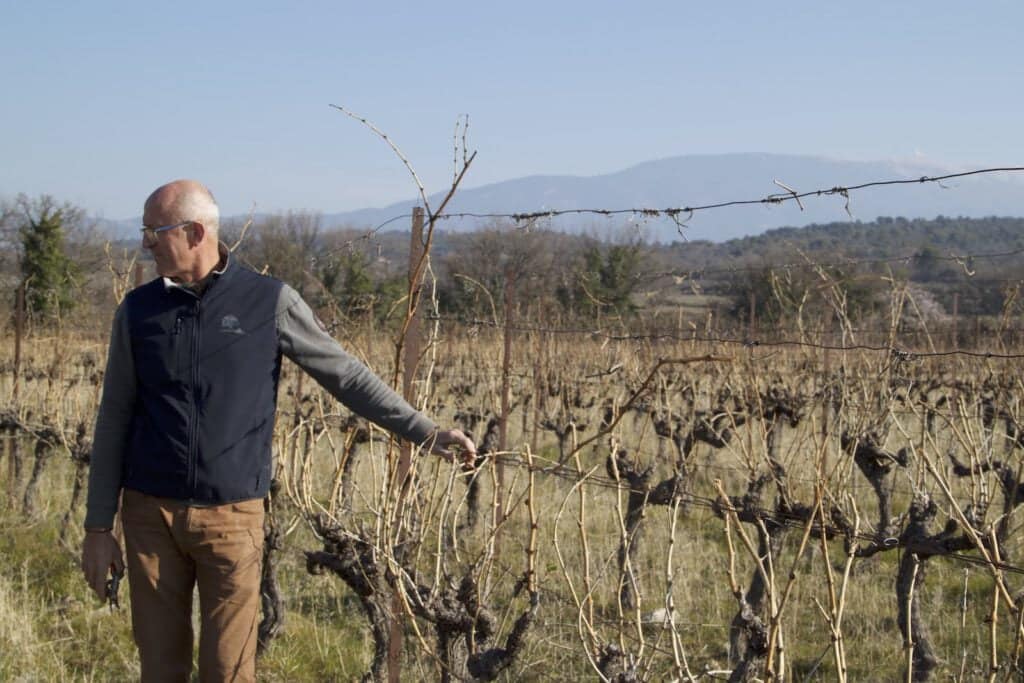 Joël Jacquet, dit « le grand Jacquet » est issu d'une famille d'agriculteurs sur Mazan. Il est exploitant depuis 1982. Sa femme Patricia le rejoint en 1998 ; ils créent ensemble la SCEA GRANDJACQUET. Après quelques formations, l'obtention d'un certificat de spécialisation et la sortie de la cave coopérative, ils créent le domaine du grand Jacquet en 2000 (en cave particulière) et adhèrent aux vignerons indépendants. Tous les raisins proviennent de leurs vignes et sont vinifiés par leurs soins. Deux ans plus tard, l'ensemble de leurs vignes est converti à l'agriculture biologique (label AB de Bureau Veritas depuis 2005), puis en 2008 à la biodynamie.
To master the production and to control each step of the elaboration, the packaging, and the marketing of the wines, we have decided not to expand.

We have chosen to surround ourselves with recognized professionals (viticultural technician, oenologist, etc...) and we use seasonal workers for pruning and harvesting, which is largely done by hand. 
Sales are distributed as follows: 70% private individuals, 20% restaurant-cavists, 10% export; more than 1000 customers per year. A relationship of trust has gradually been established between the winegrowers and convinced consumers, by offering quality products that reinforce the image of the terroir. The domain still does some professional shows every year (organic vintage, ...), as well as particular shows (independent winegrowers show in Strasbourg, Charnay-lès-Macon, ...). The deliveries in the vicinity are done by bicycle-cargo.
To be independent, without depending on large groups to market the wines. To live with family and friends, in the middle of the luxuriant nature of the Ventoux, with a know-how, a heritage, a unique art of living which is transmitted naturally and in all conviviality. 
To obtain wines that respect the vintage, the terroir and that are as natural as possible. To progress and improve constantly, with the desire to make the most of the richness and particularity of the terroir, while respecting the environment, protecting biodiversity, reducing the carbon footprint, and limiting the use of inputs.
Thanks to the relief that characterizes the Ventoux appellation, the vines enjoy a particularly cool microclimate for a vineyard located in the south of the Rhone Valley; this freshness is found in the wines and gives them a unique balance. We produce about 60000 bottles per year, vinification and bottling at the domain.